the next step for classical music instruments
Replacing your clarinet bell with Music in Motion MiM v1.0 will turn your clarinet into an electronically extended music instrument with new and improved ways for composing and performing music. MiM is a sensor-based system for gesture aided musical expressions that can be used to process sound, video, lighting, etc. MiM is the result of an interdisciplinary scientific and artistic research project at Luleå University of Technology.
We wanted to use musician's movements to achieve a deeper interaction with electroacoustic music. This interaction can also be extended to the spatial aspect, where the musician can be said to be in a context of musical activities and where the clarinet's position in relation to these becomes important. In that sense, the concert hall's physical extent becomes part of the music, that is, the music is placed not only in a concert hall, but rather in a spatial environment.
We've designed a clarinet bell with a 9DOF sensor equipped with onboard sensor fusion. Using a combination of different sensor data, such as, accelerometer and gyroscope combined with pitch readings, we've created a system that can use the clarinet players movement qualities to create new audiovisual expressions.
"I love how Music in Motion opens up new worlds and territories to explore. As a clarinet player you are usually limited to play one voice at a time but with this technology, I feel more like a piano player who can play several layers at the same time. This opens up for so much creativity and new ways of expressing yourself as a musician and yet maintaining all the great things with the acoustic clarinet."  – Magnus Holmander, professional clarinetist
Facebook
For the latest news, follow our Facebook page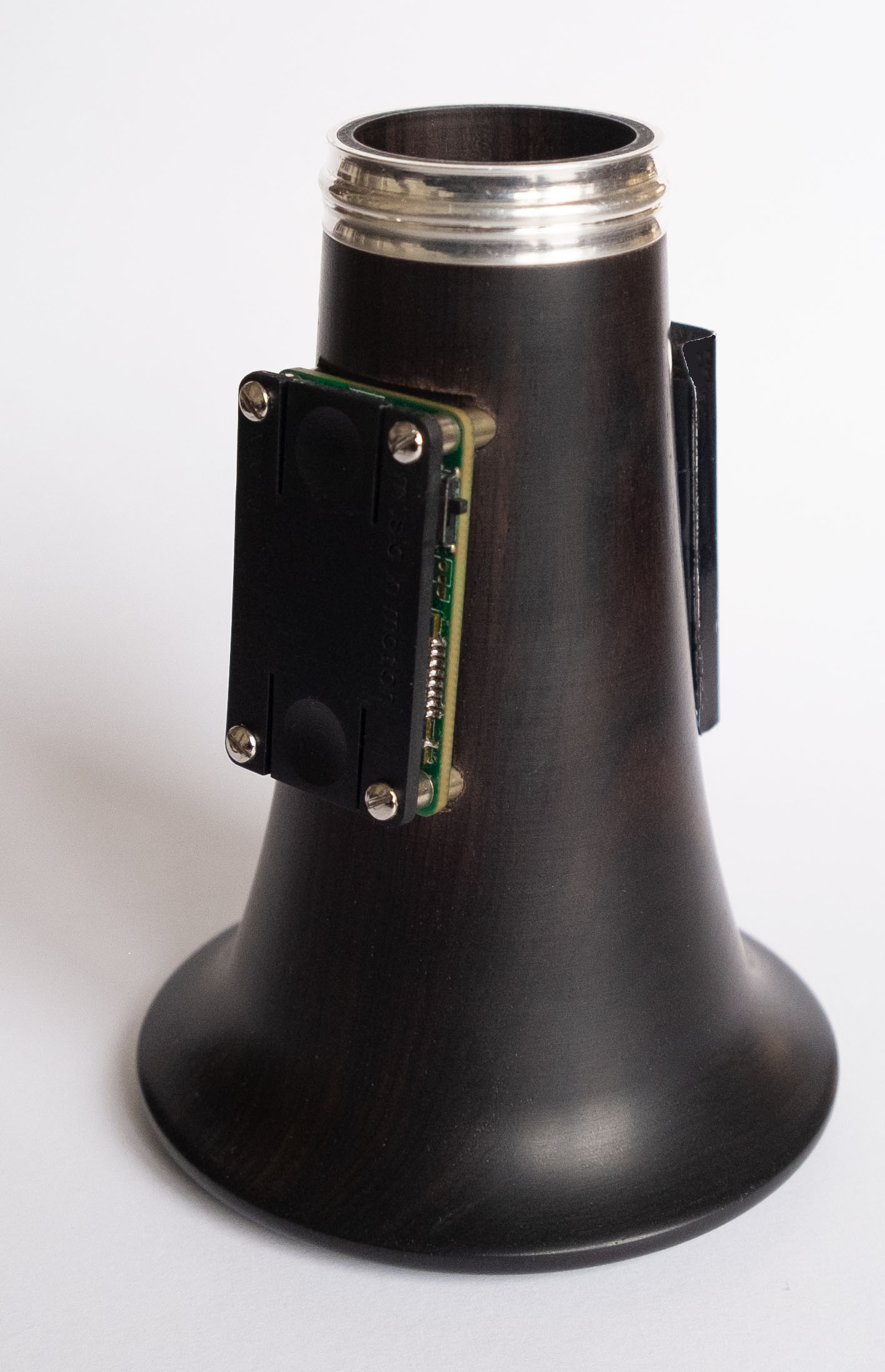 9 DOF sensor transmitting acceleration, gyration, sensor fusion based quaternions and euler angles, all this at 100 Hz. The data stream is transmitted over UDP via WiFi either connected to a router or as a SoftAP. Two programmable buttons and 2h of battery life.
Improvising with a MiM prototype. Heard a gong with a strong c minor in the harmonics and got the idea for this. All live electronics and visuals are controlled with sensors in the clarinet bell.
Clarinetist Magnus Holmander performs his own composition Black Swan using the brand new technology Music in Motion.
Working with a MiM prototype. In this improvisation I work with CataRT by MuBu, Interactive corpus-based concatenative synthesis. The patch analysis a sound file or several and divide them into grains according to desired parameters and distribute them into a xy plane. I then use my bell to navigate the plane using intensity and bell pitch parameters. This makes up the backdrop for my improvisation. Visuals using jit.gl.bfg inspired by Andrew B.
the MiM bell is transmitting sensor data in 9 degrees of freedom over UDP. On the computer side the data is collected in MAX, from Cycling 74 and can then be used to manipulate audio, video or any other digital medium.
A Max package with a set of effects will be available at launch.
Standalone applications with the effects will also be available at launch.
MiM v1.0 will soon be available for purchase directly via this site. Meanwhile, please pre order your unit to ensure delivery as soon as production is up and running. We will contact you shortly for more information and let you know as soon as your unit is ready!